A booking is required to visit Birmingham's HRCs. Book a slot:
CASTLE BROMWICH HRC
Due to HS2 works, the highways team are currently working on delivering the next phase of the works. During this time, temporary traffic lights will be in operation on Tameside Drive, and as a result, there will be increased traffic when travelling to the Castle Bromwich HRC. Please take into consideration the additional time needed to visit the recycling centre.  This phase of the work is due to be completed and traffic management removed on 22 December 2023.
In 2022, a total of 50,872 
bookings made were not attended.
If you can't make the booking, cancel it via the link in your confirmation email so someone who needs a slot can use it.
Next time you visit the household waste and recycling centre remember to:
Book a slot and bring along proof that you are a Birmingham resident, as you will be refused entry without it. The following will be accepted:
Council Tax (hard copy or digital)
Utility Bill (hard copy or digital)
Perry Barr household recycling centre is now closed for major improvement works. Find out more by clicking here.
All visits to Birmingham household recycling centres require a slot to be booked online ahead of visits. Turning up at a recycling centre without a booking will result in being turned away.
Rules for visiting our sites
Rules for visiting our sites
Generally, we are operating with the following rules, specific site rules follow underneath. This is to ensure the safety of both the public and our staff. Please ensure you read and follow this guidance when visiting any of our sites:
Use the car you have booked with - the interior fittings must not be stripped out, otherwise, it will need to be booked in as a van

You MUST be a Birmingham resident (i.e. you pay your council tax to Birmingham City Council) and produce address documentation on your visit

Access will be by car only, strictly no pedestrians allowed

Vans and large trailers (larger than 6'x4') need to book via the van booking centre

Small trailers (up to 6'x4') are permitted access

Not bring more than eight 25kg bags (or equivalent) of inert waste, such as rubble or soil, turf, hardcore per visit

You must NOT leave your car until it is parked in a bay

Children must remain in the car with seatbelts fastened

Please treat our staff with respect, as abuse of any kind will not be tolerated

All HRCs, with the exception of Tyseley and Castle Bromwich, have height restrictions of 6' 10" (2.1 meters). If your vehicle exceeds the height limit, please make your booking for Tyseley or Castle Bromwich HRC.
What to expect when you arrive on site
What to expect when you arrive on site
There will be Veolia staff at the HRC entrance to manage entry to the site.  Please listen and follow their instructions. They are there to help you and make sure you stay safe and can complete your trip in as quick a time as possible. Thank you for treating our staff with respect at all times. As an employer, Veolia does not accept abuse of any kind.
Restrictions
Birmingham's recycling centres cannot accept business or trade waste via the online booking system.  For example, waste from a builder or other trades person carrying out work to a house they don't live in; waste from the landlord of a property, or someone offering to clear any rubbish from a house which isn't their own.
The extra traffic and waste created by businesses illegally tipping waste at these sites add to site congestion and inconveniences local people seeking to dispose of legitimate household waste.
Materials accepted on site
Materials accepted on site
We are able to recycle/re-use the following items:
Green garden waste
Cardboard
Paper
Glass
Metal
Wood and wood-based products (MDF, chipboard etc)
Engine oil
Car batteries
Fridges & freezers
Textiles
Shoes
Books
Tetra Pak, Pringles tubes
Waste electrical and electronic equipment (WEEE)
TVs & CRT monitors
Fluorescent tubes
Gas bottles
Soil
Hardcore & rubble (eight bags of 25kg or equivalent) 
Carpets & mattresses
Hard plastics
Cooking oil
Water-based paint
Bulky waste (e.g. bed frames, sofas, upholstered furniture, dining tables/chairs)
Paint
Coffee pods (plastic & aluminium pods)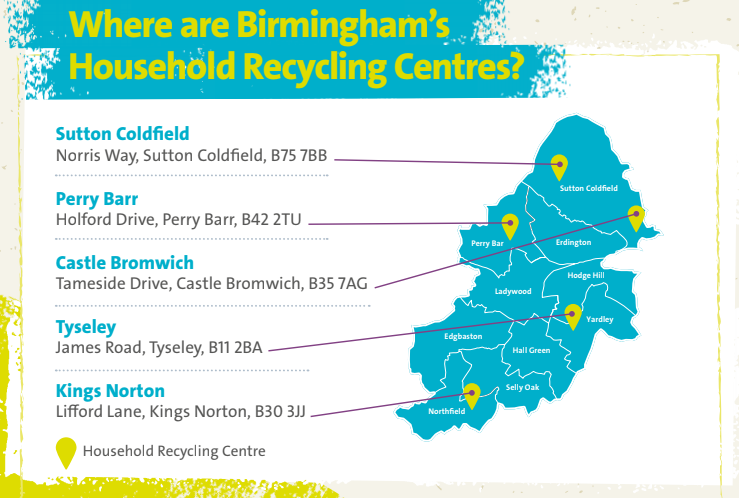 During 2022, 704,131 vehicles visited Birmingham's Household Recycling Centres
Veolia operates all five Household Recycling Centres in Birmingham,  enabling residents to dispose of their household waste and recyclable items. The Household Recycling Centres take a wide range of items and they're really useful for waste that can't be recycled or disposed of via residential collection services or bring banks.
Please ensure that before you visit, you have separated your waste by material type. This will help us to recycle more of your waste, make your visit as speedy as possible and will avoid delays for yourself and others.